Michigan
Since it's first successful seminar in Flint, Michigan in 2011 the Bukhari Institute has hosted several programs in Flint and surrounding communities.
Upcoming seminars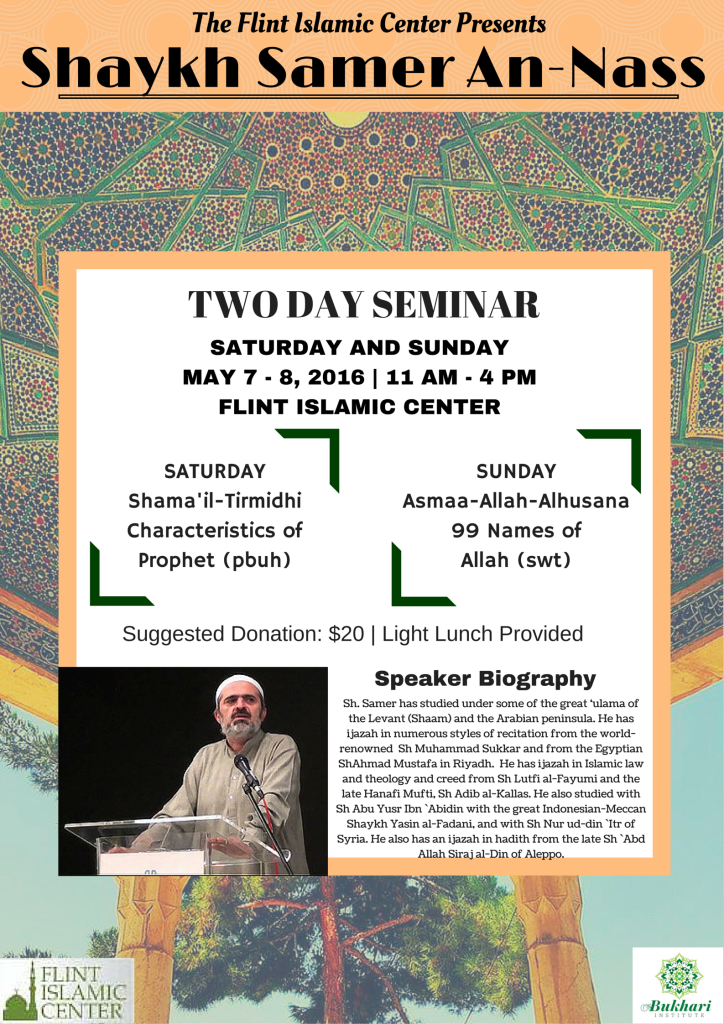 Stay tuned for upcoming programs.
Past Courses
Higher Objectives of Islamic Law (Maqasid)

Oct. 24, 2015 @ FIC
Ustad Ubaydullah Evans (ALIM)

Prayer:  Ascension of the Believer

April 19, 2015 @ FIC
Imam Tahir Anwar

Seeking the Divine:  Faith, Activism & Spirituality

Nov. 22, 2014 @ FIC
Imam Zaid Shakir (teaching from Imam Muhasibi)

Words of God: An Exploration of Divine Rhetoric

July 12, 2014 at FIC
Ustadh Hisham Mahmoud

The Prophet's (saw) Words: Principles of Hadith

Mar. 22, 2104 at FIC
Shaykh Bilal Ali Ansari

Know God: Ten Principals of Belief in Allah

Nov. 2, 2013 at FIC
Shaykh Faraz Rabbani, Shaykh Moiz Hasan

Surah Yaseen:  A literary Appreciation

Mar 3, 2013 at FIC
with Shaykh Abdul Nasir Jangda of Bayyinah.

Attributes of the Illuminated (pbuh): Razjan Class

Spring, 2013 at FIC
with Sh. Yahya Rhodus, Dr. Kamran Riaz, Sh. Muhammad Mendes, & Ust. Hisham Mahmoud

Imam Nawawi's 40 Hadith Seminar

Dec 8, 2012 at FIC
With Shaykh Yahya Rhodus and Dr. Kamran Riaz

Lessons from the Holy Quran

June 23-24, 2012, at FIC & ICS.
with Imam Afroz Ali, Shaykh Yahya Rhodus and Ust. Abdul Latif Al-Amin

Shama'il-an-Nabi (pbuh) Seminar

Nov. 12-13, 2011 at FIC
with Ustadh Hisham Mahmoud and Ustadh Saad Quadri.
Other Events:
Haji Noor Deen Michigan Tour

August 26 – Sept. 7, 2014
Detroit, Ann Arbor, Flint, Saginaw, Lansing

A Conversation with Converts

Feb. 24, 2013 at FIC
with Shaykh Muhammad Mendes

Cry of the Reed, Encouter Islam through Art, Verse and Song.

Nov 2, 2012
Sh. Yahya Rhodus, Kamran Pasha, Dawud Wharnsby, Raef.

Going Beyond Halal

Sept. 13, 2012 at University of Michigan, Ann Arbor
with Ustadh Nuri Friedlander

Classical Islamic Learning:  New Perspectives

June 30, 2012 at FIC.
with Shaykh Hamzah Maqbul Chaudhary

Building Zaytuna College: Brick by Brick

Mar. 18, 2012 at FIC (and June 1, 2012 at IINN)
with Imam Zaid Shakir and Shaykh Hamza Yusuf.
Michigan Picture Gallery

Michigan Event Posters